FREDERIC SIGNES
CERAMIQUES
motifs émaillés sur des carreaux en faîence et en argile
pour tables, décoration intérieure et extérieure (cuisine, salle de bain, piscine...)
creation of a various glazed designs on eathenware and clay tile
for tables, decoration in or out ( kitchen, bathroom, pool...)
CONTACTER NOUS POUR LES PRIX / CONTACT US FOR THE PRICE Email
ACHETER /
PURCHASE

FREDERIC SIGNES, né en1973 et réside a St. Privat des Vieux, Gard (30), France, Europe.
FREDERIC SIGNES a suivi une formation de peintre en lettre / graphiste et décorateur a Nimes. Puis il a fait un CAP de décorateur sur céramique et verre à l' illustre école de SEVRES.
Aujourd'hui, FREDERIC SIGNES concentre ses efforts dans la céramique, notamment en réalisant des motifs émaillés sur des carreaux en faîence et en argile.
FREDERIC SIGNES est un spécialiste de la décoration intérieure et extérieure, il réalise des tables, de salon, des consoles, des décors pour salles de bains, cuisines ou tour de piscine. Il crée les formes et les motifs des ensembles selon le désir des clients, à la demande.
Fréderic est inspiré surtout par des dessins de la BD et du fantastique, il est motivé par ses connaissances, ses formations, et par son desir de céer son propre Art.
FREDERIC SIGNES, born in 1973 and resident of St Privat des Vieux, Gard, France, Europe.
FREDERIC SIGNES was trained as a sign-painter / graphic artist and interior decorator in Nimes, France. Then he became an aprentice ceramics and glass decorator at the illustrious school of SEVRES.
FREDERIC SIGNES is a spécialist of decoration. He make tables, decorations in or out for bathroom, kitchen, pool ... He make a personnal decoration with the client.
Today, FREDERIC SIGNES concentrates his efforts in the ceramics arts, his speciality is a creation of a various glazed designs on eathenware and clay tile . Frederic is inspired above all by comic-book characters and the fantastic genre, and he is motivated by his knowledge, training, and by his desire to create an Art of his own.
motifs emailléss sur des carreaux en faîence et en argile
creation of a various glazed designs on eathenware and clay tile
motifs emaillés sur des carreaux en faîence et en argile
creation of a various glazed designs on eathenware and clay tile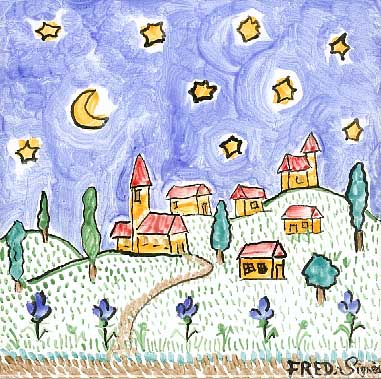 GALERIE L'ARCHE
- M. J. ANGILELLA
9 RUE ALBERT 1ER - 30100 ALES - FRANCE - EUROPE
TEL: fixe :(+33) 04 66 52 82 36 - portable : 06 83 07 19 80
internet: http://www.chez.com/glarche
Email : mjang@free.fr
Accueil / Home
Catalogue Items for sale
ACHETER /
PURCHASE
Expos
Les Artistes / Artist
Tour Gallery / Visite Galerie
Auquier / Angilella Créations (français / english)
Liens / Links
Email